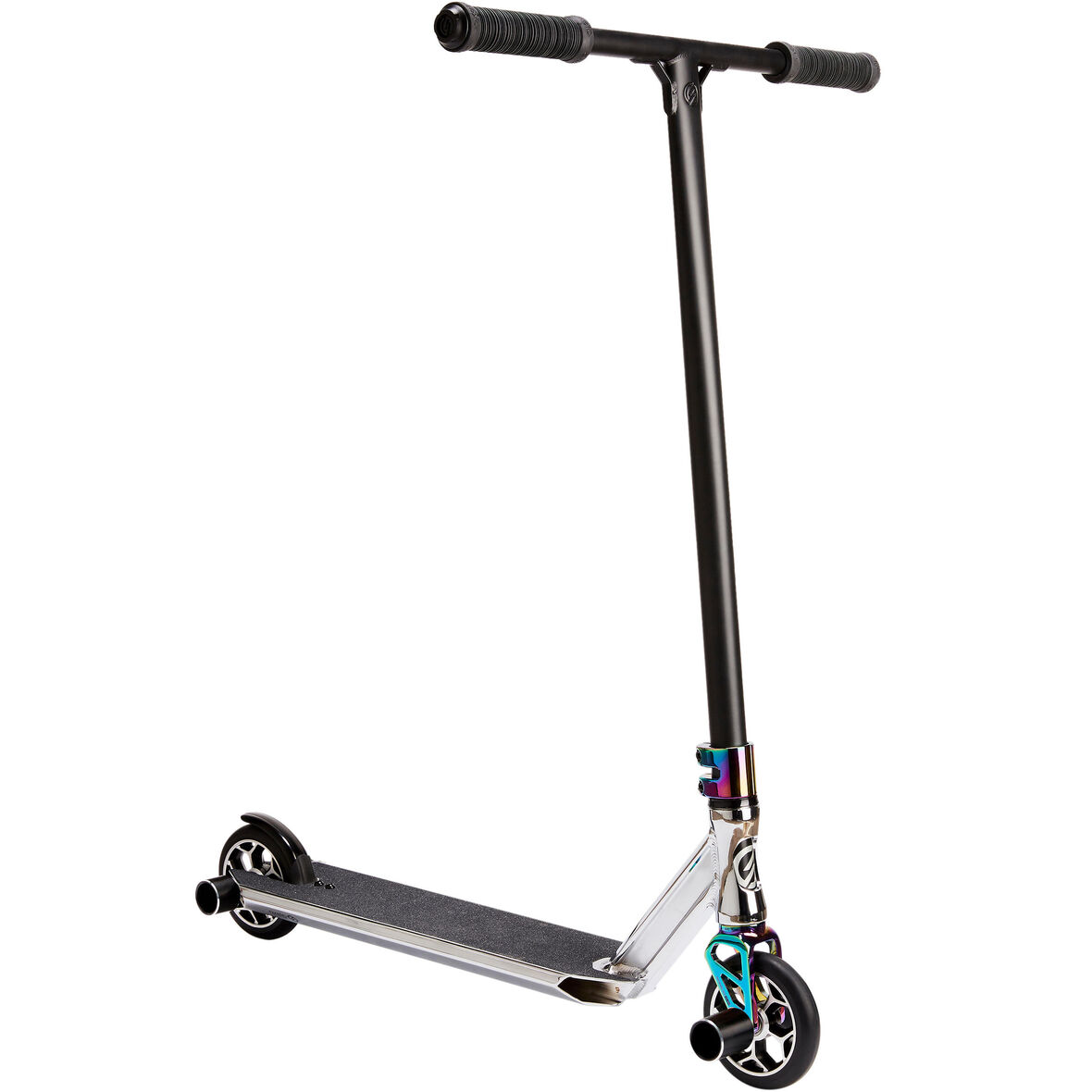 MF3.6 V5 CHROME
Designed for learning tricks and riding in skateparks and on streets! Push your limits with the MF3.6. A durable freestyle scooter, perfect for executing tricks in skateparks and on the streets!

Features: 

GLIDE PERFORMANCE: 120mm High Rebound 88A PU aluminium core wheels mounted on ABEC 7 bearings

DURABILITY: Double thickness aluminium fork, T-bar in 4130 chromoly CrMo steel, and HIC system

LIGHT WEIGHT: 4.3 kg.

STIFFNESS: The built-in headset guarantees better stiffness and a smooth ride.

Components:

DECK: The (flat) deck is made from 6061-T6 anodised aluminium. Structured with 3 grooves and 4 bracing ridges for better stability and improved gliding while grinding on skatepark equipment .~
Ergonomic design makes it easy to hold the deck while executing grabs.~
Dimensions: 115 x 530 mm.~
Deck Angle: 82.5°.

T-BAR (HANDLEBAR): one piece T-bar (handlebar) made from chromoly steel CrMo 4310 NOAP. Heavier but also stiffer than aluminium, this handlebar guarantees complete safety.~
Dimensions: Ø : 31.8 mm, H : 650 mm, L : 560 mm.~
Total height: 915mm

WHEELS: Oxelo wheels with 120mm diameter, alloy core (wheel with spokes), high rebound 88A PU.~
The wheels are mounted on 608Z ABEC-7 NMB bearings that last longer.~
This wheel size provides better stability and speed on your freestyle scooter.

FORK: Fork made with reinforced T6 aluminium. Fork compatible with 125mm maximum diameter wheels (built-in spacing system.~
The spacer is installed between two bearings to relieve the pressure exerted on these bearings).

COLLAR CLAMP:MF3.6 collar clamp in 6061-T6 aluminium with 2 tightening screws.~
Compatible with 31.8mm to 34.9mm diameter handlebars thanks to its adaptive shim.

BRAKE: Flex brake designed to return to its original position after each use.The main difference from a spring brake:it limits vibrations".~
This system also slows down wear of the tyre's rubber.