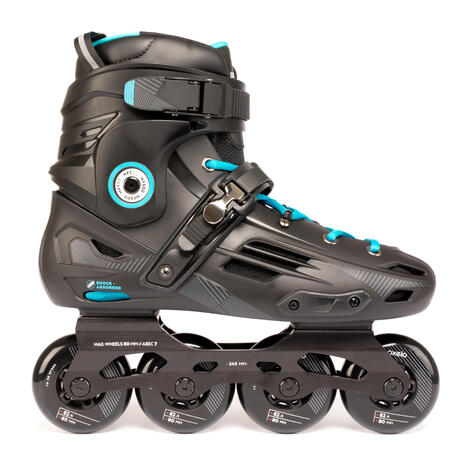 MF500 HARDBOOT - BLACK BLUE
The top all-round skate designed for your freeride and freestyle sessions.
With its great support, comfort and handling, this freeskate is at ease on any skatepark. (brake supplied but not fitted).
USER COMFORT
Boot with thick foam, and nylon and lycra interior.
GLIDE PERFORMANCE
80 mm (or 76 mm) 82A freeride wheels with ABEC7 bearings. Extruded aluminium frame.
SUPPORT
Rigid structure and triple fastening system (2 micrometric buckles + laces).
HANDLING
Extruded aluminium frame: 243 mm for 80 mm wheels or 231 mm for 76 mm wheels.
IMPACT PROTECTION
Reinforced with removable protection on the side of the foot.
GIVE YOUR MF500 SKATE A CHECK-UP
TECHNICAL DETAILS AND MAINTENANCE
HOW MUCH SUPPORT DO THESE FREERIDE SKATES GIVE?
The cuff (the plastic part at the top, also known as the "spoiler") has been created with one goal in mind: to give your foot great support. To achieve this, it has been moulded using a composite mixed with 15% fibreglass.
And for (even more) support, this skate has 2 micrometric buckles and laces.
HOW DOES IT PROTECT FROM IMPACTS?
It has a full shell and plastic pads at the forefoot for good protection when doing slides or in case you fall.
ARE THESE SKATES ALL-ROUNDERS OR ARE THEY ONLY FOR FREERIDING?
These are top all-round skates, combining glide performance (ABEC7 bearings and 80 mm or 76 mm wheels in sizes 3 to 5) with amazing handling (short, durable frame to withstand different jumps and slides).
There are two different wheel sizes based on your shoe size: 4 to 6: 76 mm / 5½ to 11½: 80 mm to give every skater the best handling.
The frame can be shifted slightly left or right to adjust it more precisely to your needs.
WHICH BRAKING SYSTEM DO THESE FREERIDE SKATES USE?
The brake (pad + mount) can go on either the left or right foot (supplied but not fitted).
You will find the brake mount in your local Decathlon store's workshop.
The brake pad is available from the roller skating department (depending on the store) or online.
WHAT IS THE MAX USER WEIGHT FOR THIS SCOOTER? 
The maximum weight for the MF3.6 is 100kg. 
Watch the video to learn how to adjust your frame.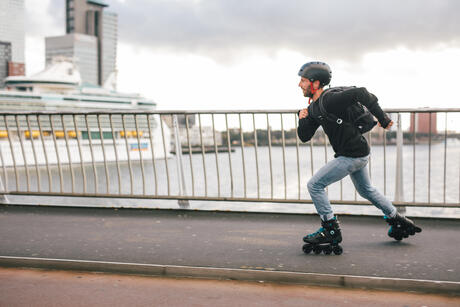 GLOBE-ROLLER: DISCOVER THE WORLD BY SKATE
The circumference of a skate wheel is about 250 mm. And the circumference of the Earth is just over 40,000 km. Imagine how many times the wheel has to spin to circumnavigate the Earth in "globe-roller" mode…