Year of commercialization: 2018
Designed for keeping fit while remaining comfortable (regular use).
The first exercise bike that follows you everywhere at home. No need for an electrical outlet to operate it.
PRODUCT BENEFITS : 
SMOOTH PEDALLING : 6 kg flywheel.
COACHING : 5 functions including heart rate.
7 programmes.
SITTING COMFORT : Comfortable saddle, easy mounting / dismounting, handlebar adjustment, toe clips.
MANEUVERABILITY : Wheels for easy moving.
DURABILITY : Maximum user weight: 130 kg.
Assembly and commissioning
Your equipment is properly assemblied but you're having some difficulties during its use? Discover all of our solutions here.
MY CONSOLE DOES NOT SHOW THE CORRECT UNITS OF MEASUREMENT FOR DISTANCE
1- Start the console by pedaling for 4 seconds.                                                                                        
2- Stop pedaling and press and hold the "quit" key until the console turns off.                                               
3- Keep "start" pressed until "Km" or "MI" appears on the display.
4- Press the right arrow to change the unit of measurement.  KM = Kilometers MI = Miles.
5- Press the "Start" button to confirm your choice.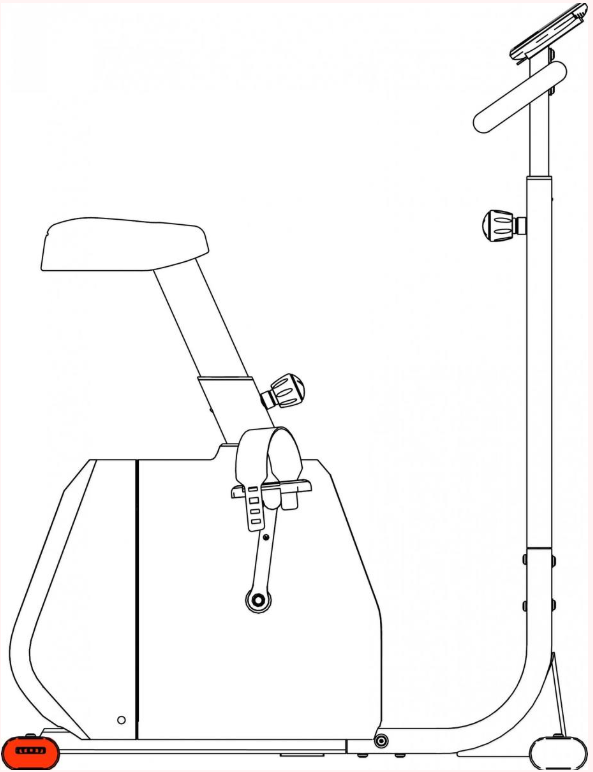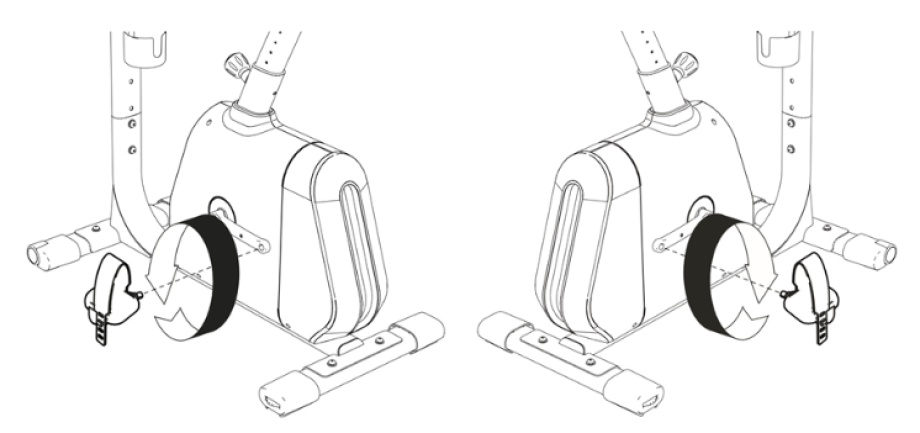 The right pedal (R) and the left pedal (L) do not screw on in the same direction:
THERE'S A CLICKING NOISE WITH EACH TURN OF THE PEDALS
Unscrew the pedals by one turn, then screw them back on very tightly.
1. Tighten all visible screws.
2. Check the stabiliser runners.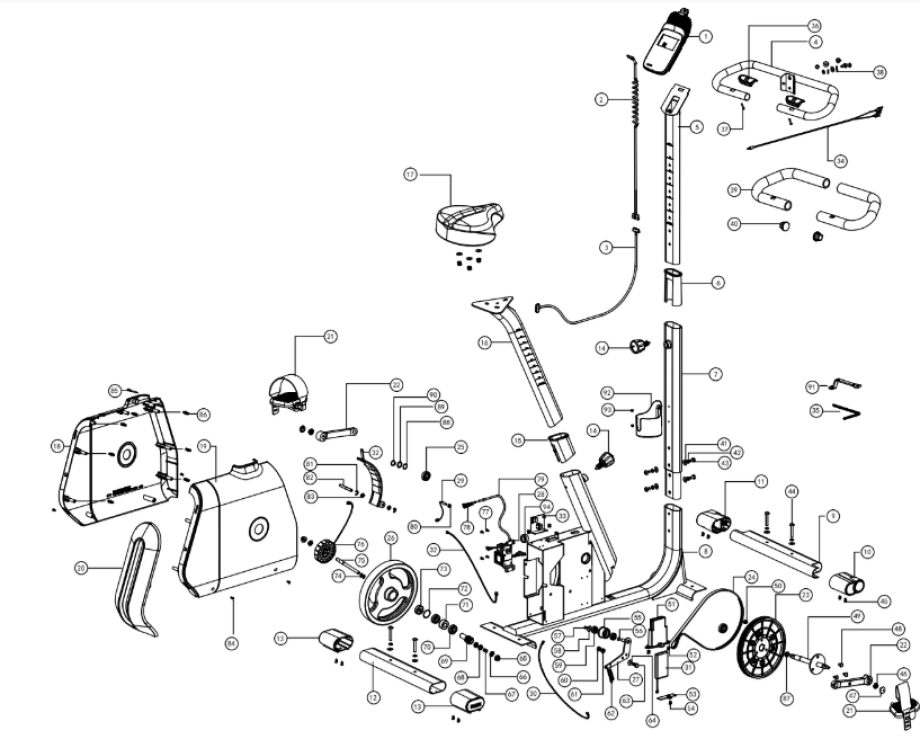 DIFFICULTY GETTING A HEARTBEAT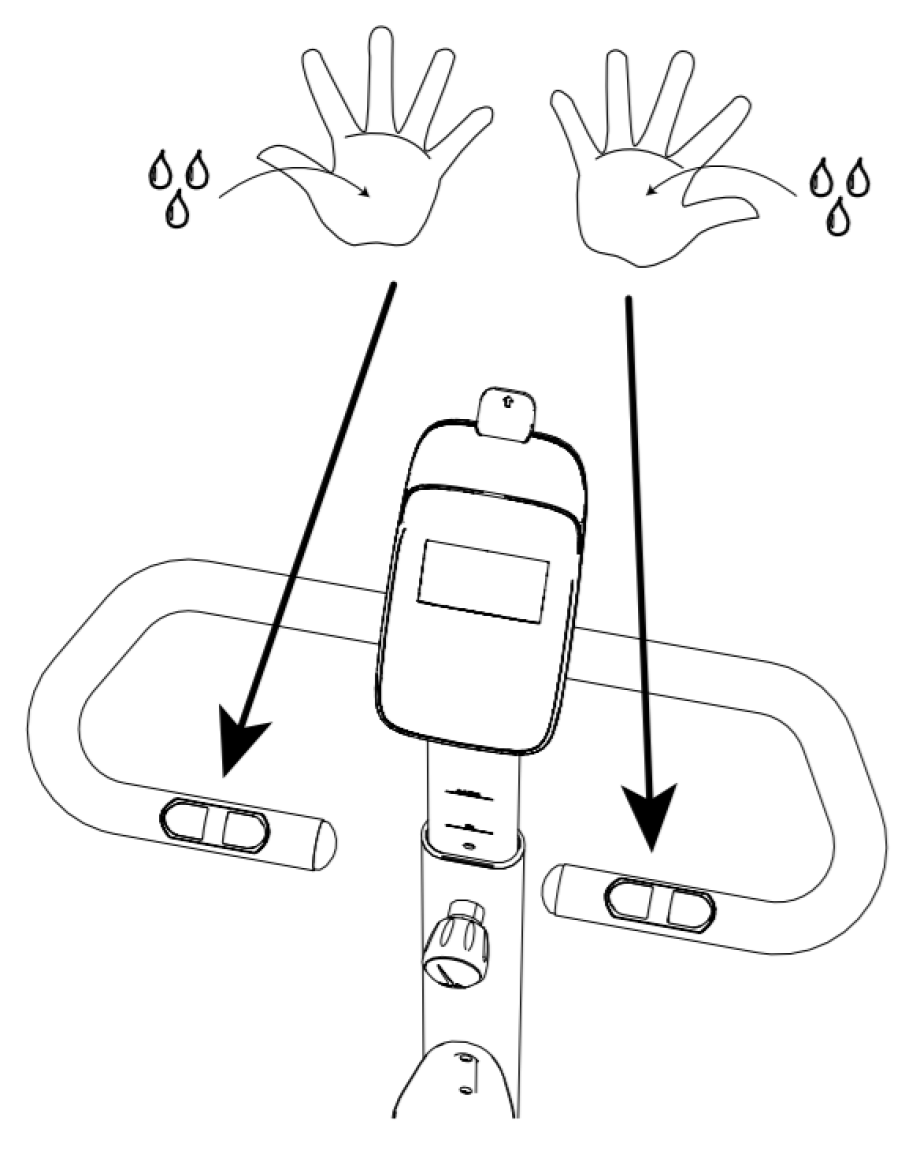 Heart rate indicator does not flash or flashes irregularly:
1. Wet your hands slightly.
If you have a heart belt Geonaute (not uncluded with the bike):
1. Check the battery position or replace it with a new one.
2. Wet the belt slightly on the part that is in contact with your skin.
3. Be sure to place the belt directly on the skin and not over your shirt.
PROBLEM WITH THE E-CONNECTED APLLICATION
Your bike is functioning normally but you have problems with your application ? Find our solutions by clicking on the button "MY E-CONNECTED".
I HAVE A CODE E2 ON MY CONSOLE
Please create a request for assistance.
I HAVE A CODE E3 ON MY CONSOLE
1. Check the visual condition of the cables for cuts, rubbing or other damage.
2. Check the cables connections.
MY CONSOLE DOESN'T COME ON
1. You've got to pedal 4 seconds or 4 turns to activate the console.
2. Check the conections.
The console turns off automatically after one minute when not in use.
There is no memory on the console and when it is off the data are lost.
The Domyos E-Connected application can save all your data and statistics.
In case of a switch off of the console because you exceeded one minute of inactivity, the application will enter stand by mode on your tablet or phone in order to resume a normal session after a few seconds of pedalling.
No need to plug your bike, this one is self-powered.
Your pedalling generates electricity to operate the console and the engine that controls the pedalling resistance.
The warranty of your self-powered machine is the same as the standart exercice bikes.
The FEB 500 SP produces all the electricity needed to run the bike by pedalling thanks to a generator located in its transmission system.
You do not need to plug it in or put batteries.
To use the bike, you must pedal a minimum of 3sec until the console turns on.
MY CONSOLE WORKS BUT PAUSES AFTER 5 SECONDS
If your console pauses after 5 seconds while you continue pedaling and the speed and distance remain at 0, please create a support request.
It takes care of you, so why woudn't you? A regular maintenance is necessary to preserve the performances of your bike and prolong its life, find here all our advice of maintenance. 
1. Wipe perspiration off your product after each use.
2. Clean with a soft cloth (moistened with water) after each use.
3. Regularly check the stability of your bike as well as the tightening of the screws according to the user's guide.
Do not leave in a damp place; do not store outdoors.
For home use only.
Max. user weight: 130 kg.
DOMYOS guarantees this product under normal use conditions, 5 years for the structure, 2 for other parts and labour as from date of purchase, as shown on receipt.