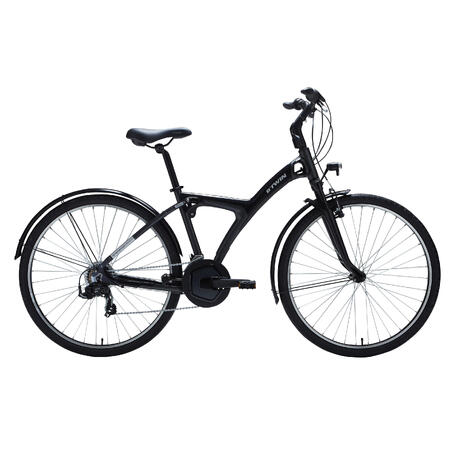 B'ORIGINAL 900 FULL SUSPENSION HYBRID BIKE 2019
Admire the surrounding countryside in comfort with this hybrid bike designed for long weekend rides. Enjoy leisurely rides on your B'Original 900. It has a full suspension frame and gel saddle, making it very comfortable on both roads and trails.
ADJUSTING YOUR BRAKE PADS
Brake pads wear down over time and that need to be replaced periodically.   Click the video below for instructions on how to adjust your bike's brakes or replace your brake pads.
All of our B'Twin B'Original bikes (all sizes) are compatible with the B'Twin B'Clip (or OneSecondClip) baby seat that attaches onto the pannier rack, or the B'Twin B'Clip (or OneSecondClip) baby seat that mounts onto the frame.
PANNIER RACK COMPATIBILITY
All B'Twin B'Original bikes (all sizes and models) are compatible with the B'Twin B'Clip B'Original 24" pannier rack.
TECHNICAL INFORMATION > FRAME Our engineers designed this steel unisex frame made (chrome molybdenum) with a step-through geometry that makes it easy to get on and off. The cables are routed inside the frame to give the bike a more streamlined look.   > FORK The B'Original 900 is made with a 6061 aluminium fork that absorbs shocks and vibrations.
60 mm travel.   > DRIVETRAIN "21 speeds with Shimano Revoshift grip shifters.
Details:
- Triple chainring: 48 / 38 / 28 teeth.
- 7-speed Shimano TZ21 cassette - 14 / 28 teeth.
- KMC 28 chain with quick link.
- Microshift M22 3-chainring 34.9 front derailleur.
- Shimano TY500D 6/7-speed rear derailleur.   > BRAKES Effective braking with 2 V-brake type brakes with pads.
The two steel brake callipers have rubber pads that squeeze the wheel rim to slow down or stop the wheel from turning.
Aluminium brake levers. > HANDLEBAR / STEERING / STEM   The handlebar stem on the B'Original 900 is adjustable in height and incline allowing you to set it to just the right riding position for you.
Bonus: its Easy Park stem system allows you to store and transport your bike easily.
Details:
- 1""1/8 semi-integrated steering headset.
- Semi-raised handlebar (Width: 580 mm in size M and 620 mm in size L).   > SADDLE / SEAT-POST Because it's important to sit comfortably as you ride, our teams created an ergonomic saddle with gel padding.
Aluminium seat post with a built-in anti-theft system.
Clamp diameter: 35 mm.
Seat post diameter: 31.6 mm.
Easy, tool-free adjustment of the seat height using a quick-release system.   > WHEELS Enjoy leisurely rides with a B'Original 900 equipped with single-walled aluminium wheels.
When transporting your bike, the quick-release mechanism allows you to easily remove the front wheel.
Front and rear wheels with 36 spokes.
Wheel diameter:
- Size M: 26 inches.
- Size L: 28 inches.   > WHEELS The B'Original 900 is equipped with versatile road/trail Skin Wall tyres (with lighter flanks), so you can ride anywhere comfortably.
The recommended tyre pressure is: a minimum of 2.8 bars and a maximum of 5.1 bars (details printed on the tyre sides).
Dimensions:
- Size M: 26 x 1.75 (44-559).
- Size L: 700 x 42C (44-622).   > CRANKSET/PEDALS The B'Original 900 comes with folding plastic pedals.
Aluminium cranks, 170 mm long.
Plastic chainguard.   > ACCESSORIES / EQUIPMENT Your B'Original 900 comes equipped with a bell, front/rear LED lights, wheel reflectors, and folding pedals.
Depending on the type of accessory and the size of your bike, your frame is compatible with:
- Stand
- Bottle cage with B'Twin adapter (8385631 or 8339445).
- Saddle bag.
- Rear pannier rack.
- Baby seat (based on the bike size).   > WEIGHT S/M: 18.05 kg
M/XL: 18.35 kg   INFORMATION / FEATURES / TECHNOLOGIES   > RESTRICTIONS The B'Original 900 is not designed for BMX or mountain biking.   > STORAGE TIPS Preferably store your bike in a place that is not damp.   > WARRANTY B'Twin provides a lifetime warranty on the frame, stem and handlebar of the B'Original 900.