CITY SPEED 500 ORANGE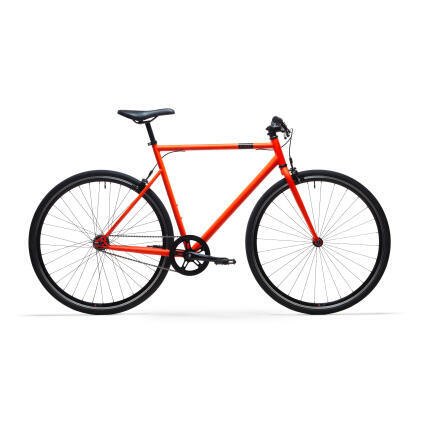 Discover our fast, agile new single-speed city bike designed by urban cyclists! The fixie look with the utilitarian features of a city bike.
Our desire? To finally make accessible a good, agile, fast, single-speed city bike suitable for fixie use (flip-flop hub).
Why not follow us on Instagram @City_Speed_Bikes?
CARING FOR YOUR TOWN BIKE
EVERY 15 DAYS: INFLATE YOUR TYRES
The recommended pressure is 6 bars, if you're looking for greater comfort, reduce the pressure to 5 bars. Want more performance? Increase it to 7 bars. Remember to inflate your tyres every 2 weeks.
EVERY 3 MONTHS: CHECK THE BRAKES
Brake pads don't last forever. Depending on how you ride, where you ride, and how much you weigh, your brakes will wear down slowly or quickly. This is why it's important to check them regularly and change them if necessary.  Also, are your brakes tight? If you have any questions, we highly recommend visiting a Decathlon workshop, where a bike technician can adjust your town bike's brakes to ensure they are in tip-top shape.
CHECK THE TENSION OF YOUR CHAIN
If your chain becomes loose, tighten it by tightening the two chain stays at the same time to keep the wheel straight.
HOW TO CHANGE YOUR WHEEL IF YOU PUNCTURE THE TYRE
If it's the rear wheel:
- remove the chain from the guard
- loosen the wheel nuts
- remove the wheel to change the tyre and inner tube, when putting the wheel back remember to re-tension the chain leaving 1cm of flex (test this by pulling on the chain).
You can find spare parts for your Speed 500 in the Workshop and on the Decathlon website.  
If the issue is still unresolved, or does not appear on the list, please click here to request assistance.