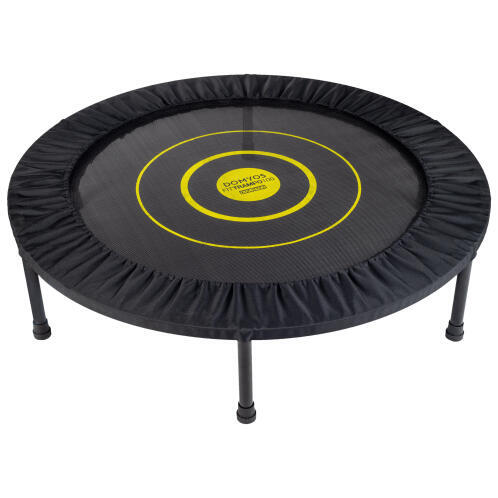 Our design team has created the Essential 100 trampoline to keep you fit and toned at home.
Indoor trampolining gives you a fun, all-round workout! It combines cardio training with toning and balance work!
ITS BENEFITS:
USER COMFORT: Jumping mat: 80 cm. Protective cover over the springs.
DURABILITY: Steel frame. 1.2 mm round tubes. Complies with EN standards for individual use.
STABILITY: Maximum user weight 100kg. Non-slip feet.
COMPACT: Takes up little space. Store it under a bed or behind a door.
Is your equipment properly set up but you're still having an issue when using it? See all our FAQs here.
Check that the feet are properly screwed on.
The springs should be changed. Please contact us to request help
1 - Check the springs
2 - Change the springs if necessary
You weren't able to fix your issue or didn't find the answer you needed? Get in touch with our technicians.
It takes care of you, so you should do the same for it. Regular maintenance is necessary to preserve the performance of your equipment and extend its service life.
MAINTENANCE AND STORAGE TIPS
Do not store the product in a damp place (pool edge, bathroom, etc.).
Check that your trampoline is in good condition before each use.
Make sure your trampoline mat is free of tears and is not stretched.
Check that your springs are not broken and that they are well covered by the protective covers.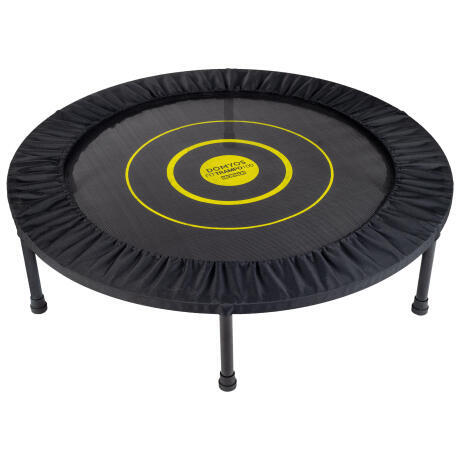 COMPOSITION
Frame // Chassis (for the rollers): 100% steel. Inner fabric: 100% polypropylene. Outer part - main fabric: 100% polyester
STORAGE ADVICE
Do not leave in a damp place. Do not store outside.
TESTS
Complies with standard EN20957-1 (class H - equipment for domestic use)
RESTRICTIONS
Max user weight: 100kg. Domestic, indoor use.
DOMYOS guarantees this product under normal use conditions, 5 years for the structure, 2 for other parts and labour as from date of purchase, as shown on receipt.