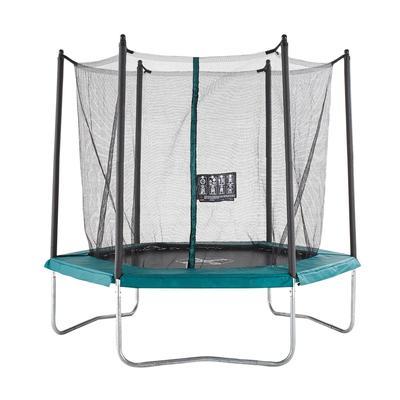 Year of commercialisation: 2019
Our designers developed this 2.4m trampoline to help your child safely learn basic jumps!
Supple, bouncy mat thanks to the 48 springs.
Jumping mat:2.56 m²
Meets the (NF EN71-14) standard.
Max user weight: 130 kg.
3 W-shaped legs
Net inside the jumping area.
Protection foam around the posts.
Anti-rust treatment on structure.
Anti-UV treatment on jumping surface, net, foam
Posts fold down in a single motion to make tarpaulin installation easier.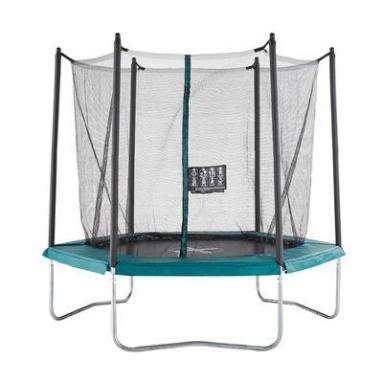 Composition :
Structure // Chassis (for wheels)
100% - Steel
Main fabric
100% - Polypropylene
Protective cover
50% - Polyvinyl chloride - phthalate-free
50% - Polyethylene foam
Net 100% - Polyethylene
Use restriction:
Only one person at a time jumping on the trampoline.
THERE'S A PROBLEM WITH YOUR TRAMPOLINE
1. The tubes don't fit together:
=> Parts must be completely assembled in order for the entire structure to be finished
2. You cannot complete the assembly:
=> Click on "request assistance".
YOU CANNOT POSITION THE SCREWS
1. Assembly problem:
=> Check each step in the user guide's assembly instructions
2. Don't hesitate to force the screws:
=>The screws are self-drilling screws which must lightly drill into the metal for a better hold.
YOU'RE HAVING TROUBLE FASTENING THE NET
1. Fasten the zipper on your net.
2. Position your net on the mat so that the zippered fastening is centred between two posts.
3. Take the cord on the opposite side by its rigid red end and tie a knot at the triangle underneath the zippered fastening (centred between two posts).
4. Thread the cord through the net's hole and then directly into the metal triangle at the spring.
You weren't able to fix your problem or didn't find the answer to your question? Please contact our technicians.
It takes care of you, so why not take care of it? Regular maintenance is necessary to maintain your product's performances and prolong its lifespan; find our maintenance tips here.
TIPS FOR PROLONGING THE LIFESPAN OF YOUR TRAMPOLINE
If repetitive jumping and UV rays have damaged your DOMYOS HEXAGONAL trampoline, rest assured that you can restore it to its original condition. All spare parts are available on our website.
MAINTENANCE AND STORAGE TIPS
In winter, protect your trampoline from bad weather by ideally storing it inside. Remember to remove your trampoline's net and jumping mat as soon as strong winds are forecasted in your area.
A ground anchoring system is available in stores.
Wipe down protection foam with clean water and mild soap. Do not use abrasive products or high pressure water.