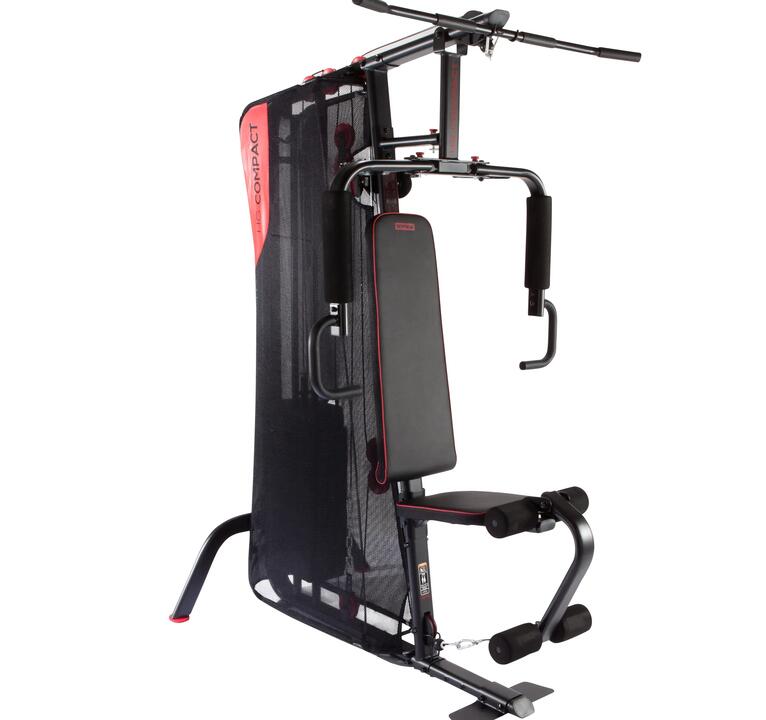 COMPACT HOME GYM - NEW COLOUR
Year sold: 2018
Designed for weight training with guided weights
ITS BENEFITS:
VERSATILITY: Train your entire body safely
Compact: Takes up minimal floor space once the arms and seat are folded up
Adjustable: adjust the weight in 5 kg increments, up to 60 kg
Stable: 2 adjustable feet at the back for stability
Modular: adjustable seat (3 height levels) that folds up
Thank you for purchasing a Domyos product. To help you get your equipment up and running, click on the video to see the different set-up steps.
Is your equipment properly set up but you're still having an issue when using it? See all our FAQs here.
Over time the cables can stretch slightly:
=> To tighten the cable, move the carabiner one or even two links down the chain until it is the correct tension.
THE CABLE IS TWISTED OR DOES NOT RUN SMOOTHLY
The cable was poorly fitted during assembly:
=>Check that the cable is properly positioned by reading the user guide.
YOU DON'T KNOW WHERE TO POSITION THE FINGER GUARDS
1. The large finger guards are positioned when the pulleys are inside the tube.
2. The small finger guards are positioned on the flat parts.
THE WEIGHTS ARE HARD TO PULL
Assembly problem:
=> Check that the pulleys are not too tight.
=> Check that the cables have not come off the pulley groove
=> Check that the cables were properly assembled (please see the user guide available on our website).
YOUR EQUIPMENT IS MAKING A NOISE
1. The screws are loose:
=> Tighten all visible screws.
2. Lack of lubrication:
=> If necessary, lubricate the joints and the load guide with silicone spray.
You weren't able to fix your problem or didn't find the answer to your question? Please contact our technicians.
It takes care of you, so you should do the same for it. Regular maintenance is necessary to preserve the performance of your equipment and extend its service life.
For home use only. Maximum user weight 130 kg.
Do not leave in a damp place. Do not store outdoors.
1. After assembling the product and before each use, check that the fasteners are tight and do not protrude.
2. Use a towel when exercising and clean your equipment with a soft, slightly damp cloth after each use.
DOMYOS guarantees this product under normal use conditions, 5 years for the structure, 2 for other parts and labour as from date of purchase, as shown on receipt.