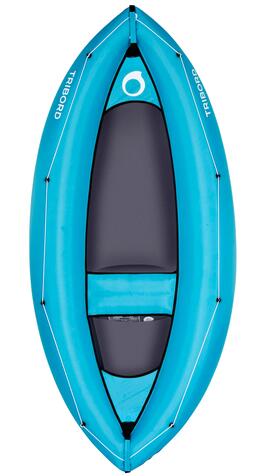 ITIWIT-1-PERSON INFLATABLE BOAT EB100 BLUE
The EB 100 is a simple and lightweight inflatable boat, with 0% PVC, for occasional use for activities on the water at the beach or lake.
PRODUCT BENEFITS
EASY TO INFLATE / PACK AWAY
Boat inflates in approximately 5 minutes using a hand pump. Deflates in 1 min.
STABILITY
For an adult and a child, up to a total of 120 kg (265 lbs).
EASE OF TRANSPORT
Light boat weighing approx. 2 kg in its bag with carry strap.
Watch this video to find out how to inflate and store your inflatable kayak correctly
Watch the video tutorial to find out how to repair or change a bladder in your kayak
REPAIR A HOLE IN A BLADDER
REPAIR A HOLE IN A BLADDER
TECHNICIANS TO REPAIR AND MAINTAIN YOUR EQUIPMENT
Check out our services* to maintain or repair your kayak or stand-up paddle board. 
*Our prices include labour only (excluding parts) and may vary between stores. If the store cannot provide a service on the spot, the products are sent to the nearest regional workshop, which may add a surcharge to the prices shown on the internet. Please contact your Decathlon store for a quote. 
REPLACING A KAYAK BLADDER
Designed to replace the bladders of your kayak.
REPLACING A STAND-UP PADDLE VALVE
Designed to replace stand-up paddle valves.