ITIWIT-ADJUSTABLE SPLIT STAND UP PADDLE PADDLE 100 140-180 CM SMALL SIZES BLUE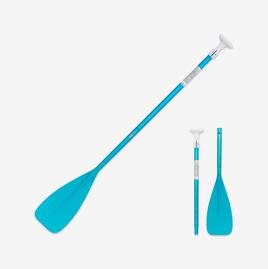 ADJUSTABLE SPLIT STAND UP PADDLE PADDLE 100 140-180 CM SMALL SIZES BLUE  
Adjusts to fit size and style for you, your friends, or family. Collapsible for storage in a bag or boot. Easy and practical SUP paddle
ADVANTAGES
ADJUSTABLE
Easy adjustment of the paddle from 140 cm to 180 cm.
EASE OF USE
Profiled blade for ease and stability: 565 cm² (87 sq in).
COMPACT
2-piece collapsible paddle (74 cm) for storage in a bag or boot
LIGHTWEIGHT
Lightweight aluminium construction: 840 g.
USER COMFORT
Ergonomic and versatile handle.
BUOYANCY
Once assembled, the paddle floats for at least 5 minutes.