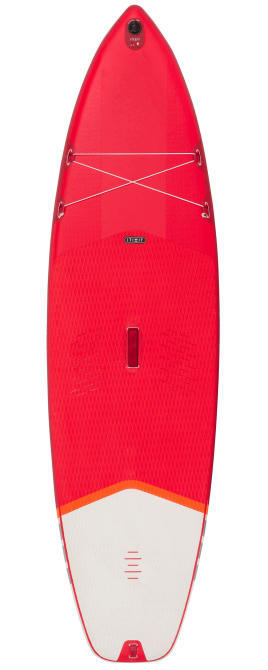 ITIWIT X100 BEGINNER INFLATABLE TOURING STAND-UP PADDLE BOARD 10' RED
A generously sized inflatable Stand-Up Paddle board (SUP). Very stable and easy to use. For users weighing 60 to 80 kg for cruising or catching small waves.
BENEFITS
STABILITY
Very wide (32") and thick (5") for rigidity and maximum stability.
COMPACT DESIGN
Dimensions folded in the bag (90 x 40 x 16 cm). Inflates to 15 psi in 6 minutes.
GLIDE PERFORMANCE
Versatile pointed shape, suitable for cruising and small waves
STRENGTH
Sturdy and shock-resistant glued PVC & Dropstitch construction.
EASE OF TRANSPORT
9  kg. Easy to carry to the water for launching, or in a backpack.
USER COMFORT
Grooved foam deck for comfort and grip.
EVA foam grab handle
COMFORTABLE TO CARRY
New bag with foam padding on the shoulders and easy lay-flat opening.
This video shows you how to inflate then store your inflatable stand-up paddle board.
Check out our tutorial videos to learn how to change a valve or repair a hole.
FIXING A HOLE IN DROPSTITCH
FIXING A HOLE IN DROPSTITCH

CHANGING A HIGH PRESSURE VALVE
TECHNICIANS TO REPAIR AND MAINTAIN YOUR EQUIPMENT
Check out our services* to maintain or repair your kayak or your stand-up paddle board. 
*Our prices include labour only (excluding parts) and can vary between stores. If the store cannot provide a service on the spot, the products are sent to the nearest regional workshop, which may add a surcharge to the prices shown on the internet. Please contact your Decathlon store for a quote. 
REPLACING STAND-UP PADDLE VALVES
Designed to replace stand-up paddle valves.
REPLACING YOUR KAYAK BLADDERS
Designed to replace the bladders of your kayak.