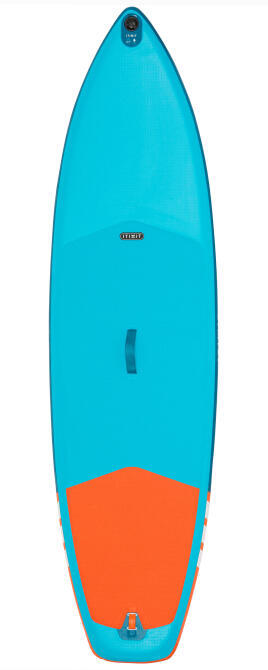 ITIWIT BEGINNER INFLATABLE TOURING STAND-UP PADDLE BOARD X100 9' BLUE
Our team of keen paddlers developed this touring stand-up paddle board for beginners weighing LESS THAN 60 kg, for half-day trips.
PRODUCT BENEFITS
STABILITY
Width (29"), thickness (5"), length (9'); Designed for users weighing less than 60 kg
COMPACT DESIGN
Dimensions folded in the bag (81 x 40 x 16 cm). Inflates to 15 psi in 4 minutes.
GLIDE PERFORMANCE
Versatile pointed shape, suitable for cruising and small waves
STRENGTH
Sturdy and shock-resistant glued PVC & Dropstitch construction.
EASE OF TRANSPORT
7 kg. Easy to carry to the water for launching, or in a backpack.
USER COMFORT
Foam deck for comfort and traction.
COMFORTABLE TO CARRY
New bag with foam padding on the shoulders and easy lay-flat opening.
This video shows you how to inflate and store your inflatable stand-up paddle board.
Check out our tutorial videos to learn how to change a valve or repair a hole.
REPAIR A HOLE IN A DROPSTITCH OR TARPAULIN STAND-UP PADDLE BOARD OR KAYAK
REPAIR A HOLE IN A DROPSTITCH OR TARPAULIN STAND-UP PADDLE BOARD OR KAYAK

REPLACE THE VALVE OF A DROPSTITCH SUP OR KAYAK
TECHNICIANS TO REPAIR AND MAINTAIN YOUR EQUIPMENT
Check out our services* to maintain or repair your kayak or stand-up paddle board. 
*Our prices include labour only (excluding parts) and may vary between stores. If the store cannot provide a service on the spot, the products are sent to the nearest regional workshop, which may add a surcharge to the prices shown on the internet. Please contact your Decathlon store for a quote. 
REPLACING A KAYAK BLADDER
Designed to replace the bladders of your kayak.
REPLACING A STAND-UP PADDLE VALVE
Designed to replace stand-up paddle valves.