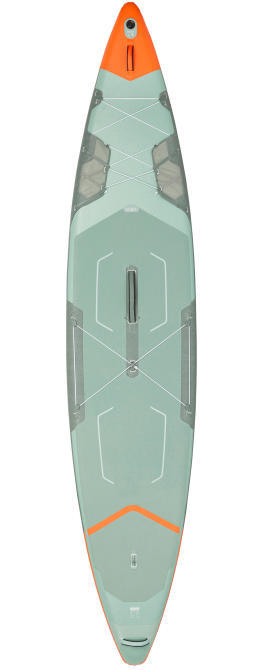 INFLATABLE STAND-UP PADDLE BOARD-X500 15' TANDEM GREEN
Our team of keen paddlers developed this tandem SUP for those wanting to share their adventure on the water with a partner. Paddle together; go further!
PRODUCT BENEFITS
STABILITY
Wide (35"), thick (6"), reinforced for optimal rigidity and stability
COMPACT DESIGN
Dimensions folded in the bag (100 x 42 x 25 cm). Inflates to 17 psi in 10 minutes
GLIDE PERFORMANCE
Carefully designed shape for optimal glide.
DURABILITY
Reinforced Dropstitch construction: rigid, hard-wearing and abrasion resistant
EASE OF TRANSPORT
15 kg. Carry backpack, 2 ergonomic handles and 2 loading areas
USER COMFORT
Compression-moulded EVA foam deck for comfort and traction on the water.
EASE OF LEARNING
Position markers on the SUP to help you stand in the right place when paddling tandem.
INFLATE AND ATTACH THE FIN
Watch this video to find out how to inflate your SUP correctly and attach the fin in its rail.
Watch the video tutorials to find out how to change a valve, repair a hole or fix a fin rail.
REPAIR A HOLE IN A DROPSTITCH OR TARPAULIN STAND-UP PADDLE BOARD OR KAYAK
REPAIR A HOLE IN A DROPSTITCH OR TARPAULIN STAND-UP PADDLE BOARD OR KAYAK

REPLACE THE VALVE OF A DROPSTITCH SUP OR KAYAK
TECHNICIANS TO REPAIR AND MAINTAIN YOUR EQUIPMENT
Check out our services* to maintain or repair your kayak or stand-up paddle board. 
*Our prices include labour only (excluding parts) and may vary between stores. If the store cannot provide a service on the spot, the products are sent to the nearest regional workshop, which may add a surcharge to the prices shown on the internet. Please contact your Decathlon store for a quote. 
REPLACING A KAYAK BLADDER
Designed to replace the bladders of your kayak.
REPLACING A STAND-UP PADDLE VALVE
Designed to replace stand-up paddle valves.