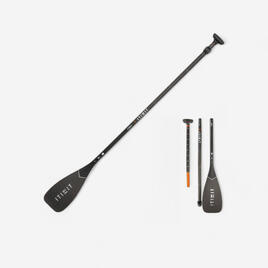 PADDLE STAND UP PADDLE 900 CARBON COLLAPSIBLE ADJUSTABLE 170-210 CM BLACK
Our team of enthusiasts designed this adjustable, collapsible paddle for advanced Stand Up Paddlers for touring, racing or surfing. Ultra-lightweight and powerful carbon paddle, adjustable from 170 to 210 cm. It allows you to attain higher speeds with less energy. It is collapsible and fits in your inflatable SUP bag.
ADVANTAGES
ADJUSTABLE
Micrometric adjustment of the paddle from 170 cm to 210 cm.
POWERFUL
Blade with concave lower surface for a good catch.565 cm² (87.5 in²) surface area
LIGHTWEIGHT
Lightweight carbon construction: 585 g
EASY TO ASSEMBLE/DISMANTLE
Collapsible, it measures 90 cm when dismantled.
EASY TRANSPORT
Cover for protection and transport
IMPACT PROTECTION
ABS plastic rail on the blade edge for protection against shocks.
USER COMFORT
Ergonomic handle provides both comfort and firm grip. Handle marker grooves.
BUOYANCY
When assembled, the paddle floats for at least 5 minutes.