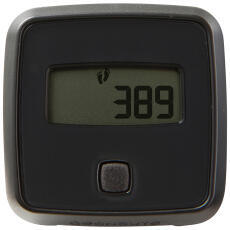 Find out how to start using your product by checking out our instructional videos
What is the correct way of carrying my pedometer?
To obtain accurate walking data, it's important to wear your pedometer correctly. Wear the pedometer to the side of your belt or waistband. Wearing your pedometer in any other position will give incorrect readings.
How can I switch off my pedometer?
You don't need to switch off your pedometer. Indeed, it goes into sleep mode after 30 minutes of inactivity. It 'wakes up' automatically as soon as you start walking or when you press one of the buttons.
How do I reset my pedometer?
You can reset your pedometer by pressing the central button for 1.5 seconds.
The readings on my pedometer seem incorrect or inaccurate. Why is this?
Inaccurate readings on your pedometer may be caused by several factors':
- poor positioning of your pedometer
- use for a discipline other than walking or fitness walking, e.g. running, hiking, etc.
To find out more about correcting these problems, check out the instructions.
Can I use my pedometer for running or hiking?
Your pedometer is designed for normal walking and brisk walking. The technologies used to measure the number of paces is not designed for running or walking on slopes. This will therefore result in inaccurate readings.