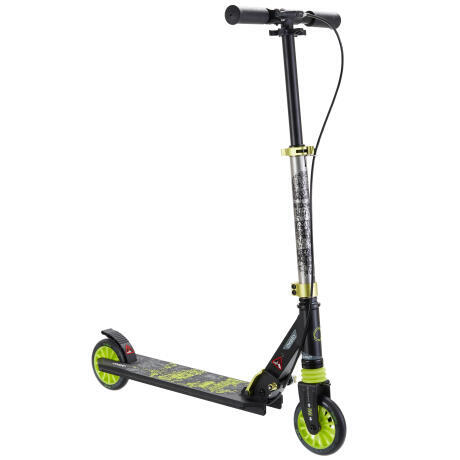 Designed for kids aged 6 to 9 (about 1.2 to 1.5 m) who take leisurely cruises on scooters. The scooter is equipped with brakes at the handlebar for easily regulating your speed and a front suspension for more comfort!
Features:
HANDLING: Deck height facilitates handling thanks to its two small 125 mm wheels
BRAKE CONTROL: Better regulate the speed of your scooter with the handlebar brakes
CUSHIONING: Front suspension better absorbs the vibrations of roads and pathways
EASE OF USE: Quick folding system with dual safety feature.
Adjustable height.
TECHNICAL DETAILS AND MAINTENANCE
HOW TO CARE FOR THE BRAKES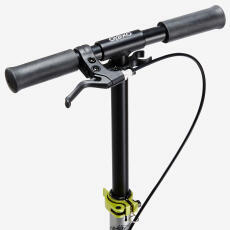 Just like the V-Brake on a bike, once the brake lever becomes hard, the cable and housing should be changed soon.
HOW TO CARE FOR YOUR SCOOTER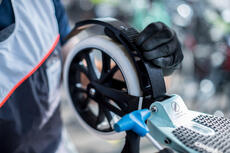 We recommend checking the condition of your scooter before and after each use and making sure there is no abnormal looseness, cracks, or sharp edges, and check all clamps. Remember that wheels and bearings are wear parts: also check and change them if the need arises.
SAFETY RULES TO FOLLOW ON THE MID 5 SCOOTER
Just like when on a skateboard or roller skates, we recommend wearing protective equipment (helmet, knee pads, and elbow pads) to safely ride the scooter.