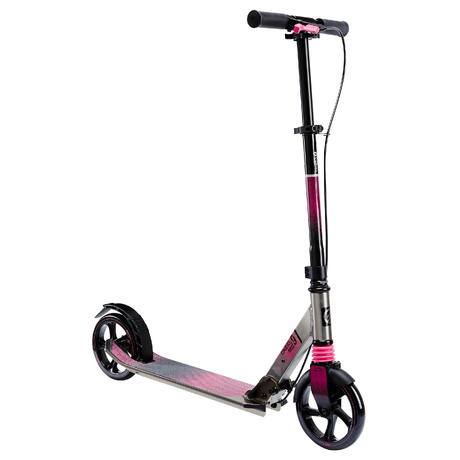 Designed for short rides in town (less than 2km) for people between 1.45m and 1.85m tall.
The MID 9 scooter has a front suspension and big wheels. It also has a brake on the handlebar for added comfort and better control of your speed.
TECHNICAL DETAILS AND MAINTENANCE
HOW TO CARE FOR YOUR SCOOTER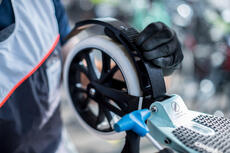 We recommend checking the condition of your scooter before and after each use and making sure there is no abnormal looseness, cracks, or sharp edges, and check all clamps. Remember that wheels and bearings are wear parts:also check and change them if the need arises.
IS THE MID 9 SCOOTER DESIGNED FOR TOWN?
You'd better believe it. Use the MID 9 and you'll get to where you're going an average of three times quicker than you would walking. The MID 9 is designed to make your journeys comfortable: front and rear mudguards to protect you from getting splashed when it's wet, brake on the handlebar, suspension and large wheels (175mm) for negotiating obstacles such as kerbs.
WHO IS THE MID 9 SCOOTER FOR?
Anyone who is between 1.45m and 1.85m tall, more or less,which is quite a lot of people.The MID 9 scooter is height adjustable and designed for journeys of up to 2km around town.For longer trips, we recommend any of the scooters in Oxelo's Town range.
In terms of weight, it can be used by anyone weighing up to 100kg.  
WHAT SAFETY PRECAUTIONS SHOULD YOU TAKE ON A SCOOTER?
You should always wear protective equipment (helmet, knee pads and elbow pads) when riding a scooter. Most serious accidents occur during the first few months of use: take time to learn the basics so that you can control your speed and brake when you need to in all weather conditions, especially when the ground is wet.