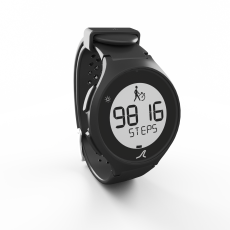 Ref : 8572982 / 8572981 / 8572983
how to calibrate a session?
The watch is calibrated automatically during the first adjustments. If however, you feel that your sessions should be calibrated more precisely, you can make a manual modification in the watch settings (Settings / Activity / Manual Distance) to correct the distance from your last session, and thus all upcoming sessions.
What is the autonomy of the podowatch?
The watch is given for 6 months of autonomy on the basis of a practice of 2 hours of walking per week You don't have to turn off your watch between activities
Can I use my podowatch all day?
The podowatch has been designed to precisely accompany you during your walking sessions. Its autonomy is strongly impacted by the launch of a session. If you start a session all day, the battery will be empty in a very short time.
When should I change my battery?
A light on the watch informs you of the low battery level, in this case you must have the battery replaced. We invite you to do it by yourself to guarantee watertightness. You can for example do it via our store workshops (https://www.decathlon.fr/browse/c0-services/c1-atelier/c2-electronique/_/N-a3g3km)
How long my watch keep my activities?
Your podowatch keeps 7 activities and deletes the oldest during the 8th activity. You can also delete activities by yourself by going to the history mode
Can I have several users on the watch?
The accuracy of this watch depends on user data (to be filled in settings). If another user uses this watch, they will have to update the user data in the settings part.
The values of my podowatch seem not accurate
Unaccurate values of your pedometer can be due to several factors: - incorrect calibration of the watch (see watch calibration in the parameters) - if you use your pedometer for a discipline other than walking or brisk walking (e.g. running, hiking etc.)
Can I use my pedometer for running or hiking?
Your podowatch has been designed for use in walking and fast walking. Calorie, distance etc. algorithms are not intended for use in running and uneven walking. Values will therefore be wrong
How accurate is my podowatch?
Decathlon pedometers  have a margin of error of less than 5% on the step count and less than 10% on the distance measurement (pedometer placed in the pocket). Caution: The measurement of the distance being linked to the setting of the step length, a bad setting of the latter can have an impact on the accuracy of the distance
My wristband is broken, what should I do ?
contact us via the form so that we can help you (blue button "access the form").
What if my battery is empty?
You can have it changed in our workshops (https://www.decathlon.fr/browse/c0-services/c1-atelier/c2-electronique/_/N-a3g3km)