Sale date: 2017
Designed for intensive training at home and at the gym.
A more flexible rebound thanks to the elastics! Tested by our coaches and users at the Domyos Club Jump sessions.
THE BENEFITS:
User comfort: 90cm jumping surface.
A more flexible rebound thanks to the 30 x 450mm elastics.
DURABILITY: Steel structure, oblong 2mm tubes. 
Compliant with the EN professional use standard.
Stability:Maximum user weight 130kg.
THERE SEEMS TO BE AN ISSUE
Is your device correctly installed, but still encountering difficulties during use? Check out our FAQ here.
The elastic cords must be changed to prevent the risk of accidents.
1 - Check the condition of the elastic cords and change them if necessary
2 - Change the jumping mat
Check the screws for wear, and replace them if needed.
You weren't able to fix your issue or didn't find the answer you needed? Get in touch with our technicians.
It takes care of you, so it's only fair that you do the same! Regular maintenance is important to keep your equipment running smoothly and extend its life span. Read on to see all our maintenance tips.
STORAGE AND MAINTENANCE INSTRUCTIONS
Do not store the product in a humid place (pool edge, bathroom ...).
Check that your trampoline is in good condition before each use.
Make sure your trampoline mat is free of tears and is not stretched.
Check that your springs are not broken and that they are well covered by the protective covers.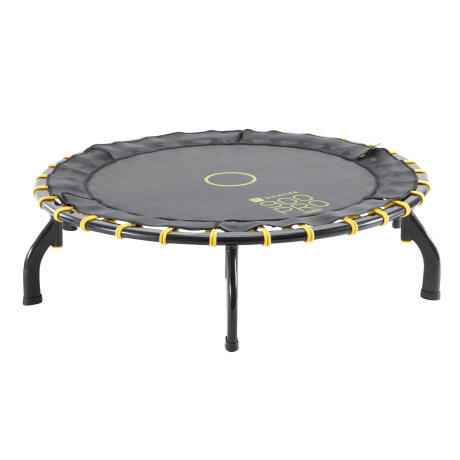 COMPOSITION:
Frame // Chassis (for the rollers)
100.00% steel
Internal fabric
100.00% polypropylene
Outer fabric - Main fabric
100.00% polyester
USE RESTRICTIONS
130kg max user weight. Indoor use only.
DOMYOS guarantees this product under normal use conditions, 5 years for the structure, 2 for other parts and labour as from date of purchase, as shown on receipt.