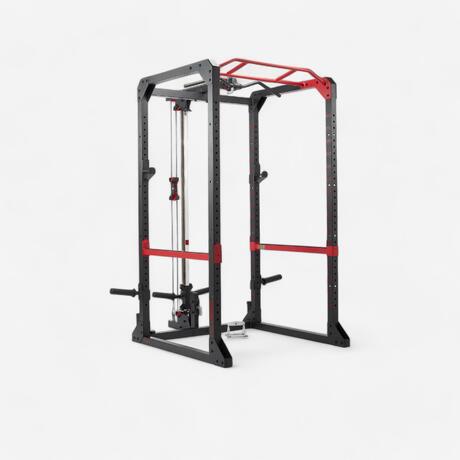 Year of sale: 2019
Our design team created this rack for weight training with bar weights, dumbbells and guided weights.
THE BENEFITS:
Durability: Tested with weights up to 200 kg. Load: 150 kg
Versatility: Do a range of free weight, guided weight or bodyweight exercises
Flexibility: Bar holders can be repositioned based on your exercises.
Anatomic design: Bar holder placement can be adjusted from 55 cm to 180 cm in 5 cm increments.
Compatibility: Can be used with the Bench 900. Weight diameter adapter between 28 mm to 50 mm
Thank you for choosing a Domyos product and for placing your trust in us. To help you when first assembling your equipment, click on the video that will guide you through each step of the assembly.
THERE SEEMS TO BE AN ISSUE
Have you set up equipment properly but you're having trouble when using it? See all our FAQ here.
THE CABLE IS TWISTED OR DOES NOT RUN SMOOTHLY
The cable was poorly fitted during assembly:
=>Check that the cable is properly positioned by reading the user guide.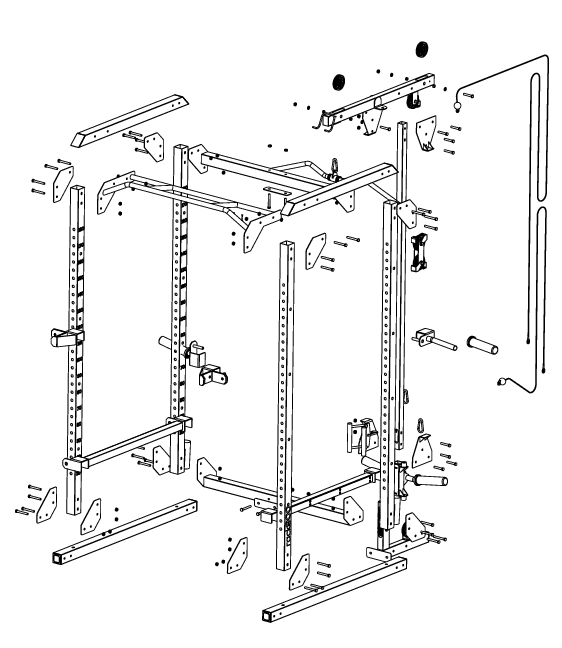 YOUR EQUIPMENT IS MAKING A NOISE
1. The screws are loose:
=> Tighten all visible screws.
THE WEIGHTS ARE HARD TO PULL
Assembly problem:
=> Check that the pulleys are not too tight.
=> Check that the cables have not come off the pulley groove
=> Check that the cables were properly assembled by reading the user guide.
You weren't able to fix your problem or didn't find the answer to your question? Please contact our technicians.
It takes care of you, so it's only fair that you do the same! Regular maintenance is important to keep your equipment running smoothly and extend its life span. Read on to see all our maintenance tips.
1. After assembling the product and before each use, check that the fasteners are tight and do not protrude.
2. Use a towel when exercising and clean your equipment with a soft, slightly damp cloth after each use.
Do not leave in a damp place. Do not store outdoors.
For home use only. Maximum user weight 150 kg.
COMPOSITION
Frame
30% - Steel
70% - Polypropylene
Feet
100% - Butadiene rubber (BR)
Domyos guarantees your product under normal use conditions for 5 years, for the structure, and 2 years, for other parts and labour, from the date of purchase, as shown on the receipt.