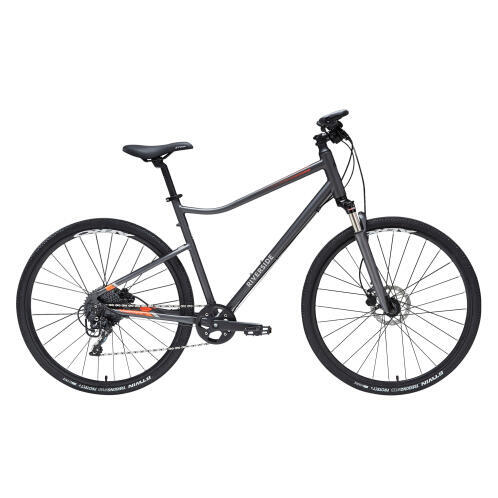 RIVERSIDE 900 GREY ORANGE 2020
Designed for people who like to go out for the day and enjoy long rides on roads and trails while taking in the scenery.
Are you looking for a hybrid bike you can ride on trails in all weathers and all year round? With its aluminium frame and high-quality equipment, the Riverside 900 is as versatile as a mountain bike can be!
HOW TO PROPERLY ADJUST YOUR SEAT HEIGHT
Why?Sitting at the right height eliminates pain from pedalling in an uncomfortable position.
Why? For more comfortable rides, and to make your bike less likely to experience a punctured tyre.
Here's the recommended tyre pressure based on the bike load (the rider's weight + luggage):
45 to 65 kg: 3 bars
65 to 80 kg: 4 bars
80 to 100 kg: 5 bars
GET STARTED WITH YOUR FIRST BIKE TOUR
YOU'RE SETTING OUT FOR A RIDE OR LONGER TOUR ON YOUR RIVERSIDE BIKE
Here are some tips for you:
1- YOUR SAFETY
Wear a certified helmet, purchased recently — the head is impacted in one out of every two falls!!
IMPORTANT: Helmets have a limited effective lifespan, even if they haven't been involved in a crash! Find out more when making your purchase.
- Set off with a bike that is properly adjusted and well maintained.
- Take along a mobile phone (charged!) to be able to make a call should you need help.
- Map out your itinerary ahead of time so you can as much as possible take bike trials and paths free of cars.
- Take a first aid kit (in a bag under the saddle, for example)
- If you will be riding in the dark, make sure you have front and back lights with you. 
2- FOR YOUR COMFORT
- If getting started with cycling: Gradually lengthen your rides, starting out at one hour.
- Wear clothing that is appropriate for the length of your ride, plus gloves.
- Don't try to push hard on the pedals. Instead, switch gears so you can pedal more easily and faster. You'll be able to go further for longer.
- Depending on the weather, bring along clothing to protect you from the cold or rain.
- Don't forget to do some stretches after your ride.
- STAY HYDRATED!! 
3- ALWAYS TAKE A FLAT TYRE REPAIR KIT WITH YOU!
- A tyre pump. Some pumps will fit onto the frame's screws for the water bottle holder.
-3 tyre levers, one inner tube, a Riverside 100 15 mm spanner: which you can fit into a saddle bag. 
Learn to make repairs yourself!! Watch the following video.
4- DRINK REGULARLY
- Attach a water bottle holder and bottle to your bike (so you can drink as you ride), or carry a water bottle in a backpack.
- Remember to drink water regularly (every 20 minutes and at least half a litre per hour)! 
5- REMEMBER TO EAT
- Take along some energy bars (you can carry them in a saddle bag or handlebar bag)
- Don't wait until you feel hungry to eat. Eat something every hour to give your muscles more energy.
WHAT AND WHEN?
Every week: Pump up your tyres
Every 100 km: Clean the chain and lubricate the drive chain.
Every 200 km: Check the brake pads.
Check the brake pads regularly for wear.When the notched area becomes less visible or disappears: your brakes need changing!
Every 2000 km: Get your brake pads changed (or change them yourself!)
Every 2000 km: Get your brake pads changed (Riverside 900). Visit your local Decathlon workshop
Every 2000 km: Get your tyres replaced (you can even do this yourself!)
Every 5000 km: Get your chain and rear wheel cogs changed (visit the nearest Decathlon workshop).
CLEANING AND STORING YOUR RIVERSIDE BIKE
Washing your Riverside bike
Don't use a high pressure water jet as water might enter your ball bearings!
Wash your bike with a hose or a sponge (cleaning kits are available at Decathlon)
Dry your bike with a cloth
Lubricate your chain with a suitable lubricant
Storing your Riverside bike (for long periods)
Store your bike in a place that is dry and sheltered
Clean your bike to remove any mud or sand, which can have a corrosive effect.
Lubricate the chain. Spray "All In One" over the entire bike to protect it from corrosion.
Shift the derailleur to the smallest cog.
HOW TO INSTALL A STAND ON YOUR RIVERSIDE BIKE
HOW TO INSTALL MUDGUARDS ON YOUR RIVERSIDE BIKE
FITTING A PANNIER RACK ON YOUR RIVERSIDE BIKE
WHICH IS THE BEST CHILD SEAT FOR YOUR RIVERSIDE BIKE
Your bike is compatible with the GROOVY baby seat sold in Decathlon stores.
IMPORTANT: Baby seats that use HAMAX type fastening nuts are not compatible with Riverside size S bikes.
TAKING OFF YOUR FRONT WHEEL (SO YOU CAN FIT YOUR BIKE IN YOUR CAR, FOR EXAMPLE)