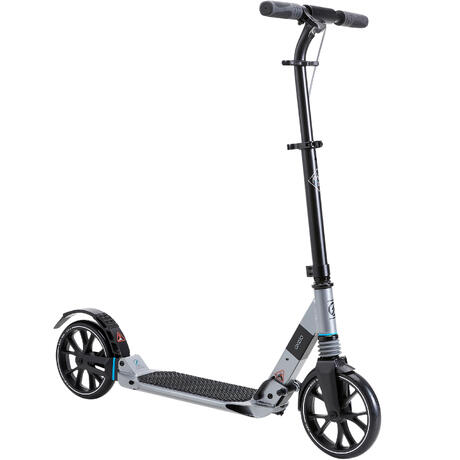 Designed for occasional urban travel over short distances (up to 2 km) Size: From 1.45m to 1.95m. Max weight: 100 kg.
Features:
EASY TO USE: Large 200 mm wheels.
One push with your foot will take you further!
EASE OF TRANSPORT: 5.6 kg: lightweight to carry with its strap.
Kickstand makes it easy to park.
CONTROLLED BRAKING: Second brake on handlebar (like on a bike).
CUSHIONING: Front suspension and rear wheel shock.
ADJUSTABLE: Precise adjustment of the handlebar for users measuring between 1.45m and 1.95m.
NON-MESSY: Very effective front and rear mudguards.
TECHNICAL DETAILS AND MAINTENANCE
IS THE TOWN 7XL EASY TO HANDLE?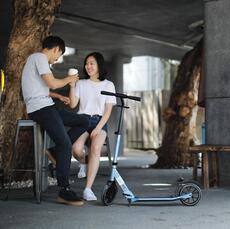 Its bowed handlebar makes it easy to control your direction and environment.
This handlebar is also graduated so that you can easily adjust it to the right height and reposition it to the same place every time. 
And carry your Town 7 XL easily with its carry strap (included). Want to stop? Park it easily wherever you like with its kickstand.
Indoors: This is the simplest solution that involves finding a place (or making room), wherever you are: at home, the office or at a friend's house. Your scooter can be leaned against a wall, hidden behind a door or under a desk, or even stashed in a storage space (a box or closet), which is incredibly easy as your scooter is collapsible. In a bag/cover: For owners of the collapsible model, it is very easy to store your scooter as it takes up half as much space in the folded position. In this case, you can keep your scooter at arms length by folding and storing it in a bag or cover so that you can easily carry it wherever you go. On a rack: Just like you ride on the sidewalk, take up less space in a unique style! You could fix your scooter to a dedicated storage rack on the floor, with the scooter held upright by its wheel, or up high using a wall mount, just like a bike one.
BRAKES AND MUDGUARD: PRACTICAL FOR THE CITY
The Oxelo Town 7 XL scooter is equipped with a brake on the handlebar and a second brake on the rear wheel. The long, full-coverage mudguard also serves as a foot brake.
IS THE TOWN 7XL SCOOTER WELL-EQUIPPED?
The long, full-coverage brake on the rear wheel provides effective braking while protecting from spray thanks to its double purpose as a mudguard.
KEEPING YOUR SCOOTER IN GOOD CONDITION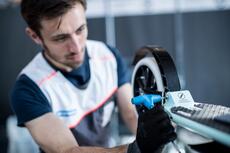 Go easy on the brakes Repeated use of your breaks leads to wear on the rear tyre, which may cause it to lose its circular shape and flatten in certain places. Avoid this problem by placing your foot on the ground to brake as often as possible. The rest of the time, gently press on the brake to gradually slow down, while avoiding premature wear on your tyre. Avoid riding on water and unpaved ground If you ride on water, you will cause the bearings inside your wheels to wear out faster. Other possible damage includes loss of grip on the non-slip surface of your deck which could cause you to slip. The solution is simple: ride on dry, paved ground and avoid puddles, sand, and dirt as much as possible. Clean is always better Keeping your scooter clean is a very simple and efficient way to prolong its lifespan. Simply wipe the bearings and other parts subject to dirt (wheels, headset, non-slip surfaces) with a cloth. This easy method can help prevent accumulation of dust and the eventual problems dust can cause on your scooter.    
WHAT ARE THE SAFETY INDICATIONS FOR THIS SCOOTER?
Generally, you should wear protective equipment (helmet, knee pads, elbow pads) while riding a scooter.
Since most serious accidents take place during the first few months, take time to learn the basics, like how to speed up and slow down in all emergency situations, no matter the weather conditions (especially on wet ground).
SUSPENSIONS FOR GREATER COMFORT
To meet your needs and provide maximum user comfort, we equipped the Town 7 XL with two suspensions: one at the front and one at the rear.
These suspensions will greatly reduce the discomfort of riding on poor roads or going over sidewalks.
Find all the videos you need to repair your scooter
Replacing the headset

Replacing the handle

Greasing

Replacing the folding system

Replacing the handle support