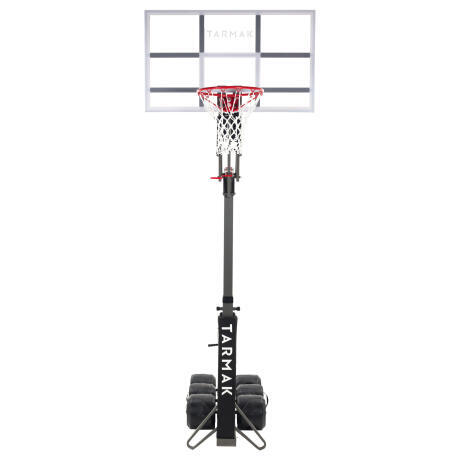 PORTABLE BASKETBALL HOOP B900
Designed for kids and adults playing basketball outdoors. The B900 can be adjusted from 2.40 m to 3.05 m and is easy to move.
ASSEMBLY VIDEO FOR THE PORTABLE BASKETBALL HOOP B900
How do you assemble your portable basketball hoop?
PRACTICAL INFORMATION ABOUT YOUR PORTABLE BASKETBALL HOOP B900
CAN YOU WEIGHT YOUR BASKETBALL HOOP WITH WATER OR SAND?
Most basketball hoops can be weighted with water or sand (refer to product instructions).
Sand is denser, which makes it heavier by volume: your hoop will be more stable (but harder to move). 
Water can also freeze in winter, which could cause the plastic base to break during very low temperatures. If the base cracks, water could leak out.
Our tip: for improved safety, weigh your hoop down with sand.
WHAT PRECAUTIONS SHOULD YOU TAKE IN THE EVENT OF STRONG WIND OR STORMS?
To prevent accidents or damage during strong wind or storms, we strongly recommend you lay your basketball hoop down on the ground. 
The larger the backboard, the greater the force of the wind against it, especially when the wind is strong.
Better safe than sorry.
If you live in a very windy area, you can also add extra weights to your basketball hoop.
HOW TO MAINTAIN YOUR BASKETBALL HOOP?
We recommend cleaning your basketball hoop with a damp sponge and soap. Rinse with clean water.
If your hoop has a foam protection around the pole, you may want to store it indoors during winter.
We recommend protecting your backboard from frost and rain with a cover.
CAN TARMAK BASKETBALL HOOPS BE USED IN PUBLIC PLACES AND ESTABLISHMENTS?
Our basketball hoops are designed for private household use (family, friends).
They comply with regulations in France (decree no. 96-495 dated 4 June 1996) and Portugal (decree/law 100-2003 modified by decree 82-2004).
They are not intended for other types of intensive use ""such as would be expected for public access and establishments.
Use by a public establishment implies regular on-site tests and is subject to safety certification.
YOU NEED A SPARE PART FOR YOUR B900 BASKETBALL HOOP
If you need replacement parts for your B900 basketball hoop, please contact your nearest DECATHLON store. The workshop technician can order the parts you need and repair your product.   
SEE THE KIPSTA B900 USER GUIDE
To view and download the user guide for the B900 KIPSTA basketball hoop
SEE THE TARMAK B900 USER GUIDE
To view and download the user guide for the B900 TARMAK basketball hoop