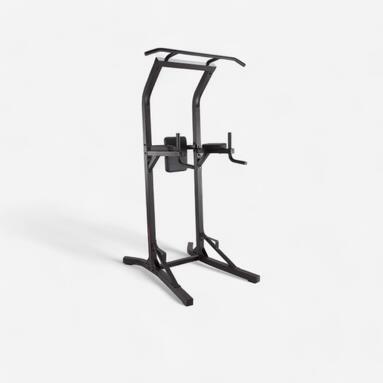 Year of sale: 2018
Designed for weight training: a bodyweight rack designed to work all of your muscles using the weight of your body
A range of bodyweight exercises. Your training: wide or narrow pull-ups, dips, pumps and leg lifts.
USER BENEFITS:
- Versatility: Pull-ups (3 different grips), dips, abs, bodyweight rack, core work, etc...
- Durability: Highly durable, supports a weight of up to 150kg, users can wear a weight jacket or similar.
- Ease of use: Easy to use for pull-ups thanks to the two steps
- Adjustable: Height-adjustable backrest for greater comfort when using the bodyweight rack.
- Grip: Grippy handles.
- Stability: Stable, rigid structure
THERE SEEMS TO BE AN ISSUE
YOU EXPERIENCED A PROBLEM USING THE PRODUCT
In the event of a problem when using your apparatus, please read the instructions carefully.   Please contact your nearest store if the issue persists.
Thank you for choosing a Domyos product and for placing your trust in us. To help you when first assembling your device, click on the video that will guide you through each step of the assembly.
You weren't able to fix your problem or didn't find the answer to your question? Please contact our technicians.
Domyos guarantees your product under normal use conditions for 5 years, for the structure, and 2 years, for other parts and labour, from the date of purchase, as shown on the receipt.