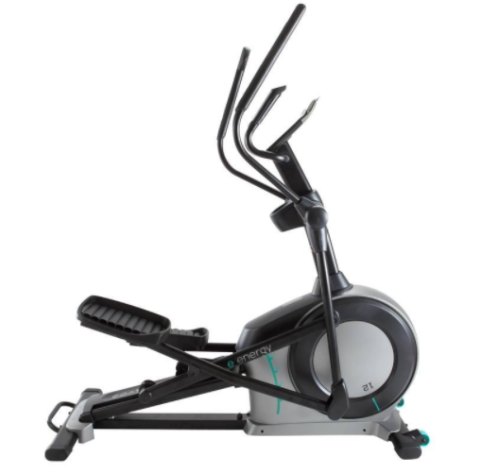 Designed for slimming down and improving your performances (intensive use)
Ideal for the most demanding athletes: improve your cardiovascular endurance and tone your body.Compatible with the Domyos E Connected app
Thank you for choosing a DOMYOS product and for placing your trust in us.. If you want to know how assembly your elliptical bike, click on the vidéo.
Your equipment is properly assemblied but you're having some difficulties during its use? Discover all of our solutions here.
MY CONSOLE DOESN'T COME ON
Your bike works with batteries:
Check that the batteries are properly positioned with the correct +/- polarity. If the problem persists, start again with new batteries
THE CONSOLE DISPLAYS SPEED AND DISTANCE WITH THE WRONG UNIT (KM/MI)
Calibration problem:
1. Check that the switch at the back of the console is in the position MI for miles and KM for kilometres
2. Press RESET to validate
1. Tighten all visible screws
2. Check the stabiliser runners 
I HAVE A PROBLEM WITH THE RESISTANCE
Unscrew the handlebar bracket tube and check that the cable connection has been made correctly.
Make sure the black shim on the lower part of the cable has been removed.
THERE'S A CLICKING NOISE WITH EACH TURN OF THE PEDALS
Loosen by one turn and then really tighten the pedal screws.
THE MOVING HANDLEBARS ARE COMING APART AT THE AXLE
He takes care of you, so why not you? A regular maintenance is necessary to preserve the performances of your apparatus and prolong its life, find here all our advices of maintenance. 
Regularly check that screws and bolts are properly tightened; wipe any perspiration off your product after each training session; dust regularly with a soft cloth.
Do not leave in a damp place; do not store outdoors.
Max. user weight: 150 kg. For home use only.
HOW DO I LUBRICATE MY PRODUCT? 
Your unit requires regular lubrication. It is to be done during editing and then once a year. 
Please refer to the image on the right to perform the procedure.
You want to repair your product yourself but you don't know how? Discover here all our tips and videos. 
[VE E-Energy] Cambio rueda de inercia
[VE E-Energy] Cambio rueda de inercia

[VE E-Energy] Cambiar cable de consola

[VE E-Energy] Cambiar el carter

[VE E-Energy] Cambiar los pedales

[VE E-Energy] Cambiar los pedales

[VE E-Energy] Cambiar el tensor de la correa

[VE E-Energy] Cambiar la consola

[VE E-Energy] Cambiar la correa

[VE E-Energy] Cambiar los rodamientos

[VE E-Energy] Cambiar un brazo
DECATHLON UK is committed to prolonging the life of each product, allowing you to say active for longer and limiting our environmental impact. 
To request technical support with your fitness product please complete a request form or contact your nearest store.